On this fourth day of May, Star Wars Day, it would be remiss of us not to give a shout-out to George Lucas' epic saga, which has sometimes played out on the tennis courts.
Note for the uninitiated (are there even any out there?): May 4th is the day on which we celebrate the Star Wars series, as Jedi* masters encourage and dub their knights with the catchphrase "May the force be with you!". Got it? Hope so. Otherwise, you're hopeless.
So, now that we're all on the same page, here's a selection of quirky videos doctored by fans who put Luke Skywalker's lightsaber into the hands of the Fed Express and some of his friends.
1. Lightsaber replay of the 2009 Australian Open final. Federer and Nadal engaged in a star war in the narrowest sense. It's up to you to judge whether the colour code was respected according to the most basic interpretation of the saga.
2. Perhaps somewhat miffed to have been kept in the shadows (many would say the dark side) of the Swiss-Spanish skirmish, Novak Djokovic traded in his racquet for a flashier version.
3. Still the Djoker and his flair for high jinks, this time at the Paris Masters. Often falling on Halloween, the tournament has seen its share of grand entrances by the World No.1. A good strategy to get the crowd on his side?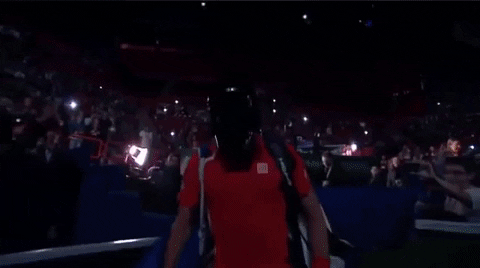 4. Let's move on to the women's side and a rare moment with former No.2 Agnieszka Radwańska in Melbourne, in 2011. Her usual equipment seemed to be showing signs of fatigue…or was it?
5. Last but not least is Play Tennis Like…Star Wars. Made by Disney and the Australian Open (them again) and produced by Swingtime Creative, it features a few novices discussing how a match between Luke Skywalker and his (spoiler alert!) dad Vader would go down. Super cute!
MAY THE FORTH BE WITH YOU.
* See Wikipedia if you've been living on a (very, very) faraway planet.
(Featured image : Tennis by KWG73 – flickr)